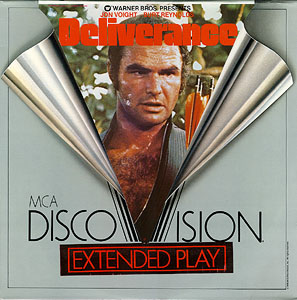 Deliverance
No. W10-519 CLV 3-Sides -1979 Release
Announced, But Never Released...
Bonnie and Clyde
#W12-516
Bullitt
#W12-515
Dirty Harry
#W12-514
East of Eden
#W21-515
Rebel Without a Cause
#W21-514
What's Up Doc?
#W16-510
The Wild Bunch
#W12-513
Though no known complete packaged copies of "Bullitt" have been found, the film does exist on deadsides. Spread across three sides of Extended Play format, "Bullitt" almost was available on DiscoVision.