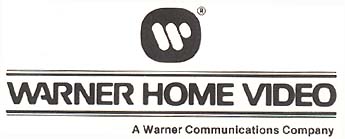 Warner Brothers films were part of the LaserDisc story from the early days of MCA DiscoVision. In the 1978 format launch MCA DiscoVision Silver Book catalog, a group of Warner films are listed. MCA-Universal partnered with select other movie studios to build the initial product catalog and Warner was included. Numerous issues caused the total output of Warner-licensed titles on the DiscoVision label to be only the 1972 film, "Deliverance." The Steve McQueen film "Bullitt" was pressed and the three sides making up the complete movie are known to exist, but finished and packaged versions were never released.
The next LaserDisc appearance for Warner was its own label, Warner Home Video, in 1983. The group of movies presented on this page are the Warner Home Video label launch titles for the format.

ARTHUR
Cat.No.22020LV $29.98
1-Disc 2-Sides Mono

ANY WHICH WAY YOU CAN
Cat.No.11077LV $29.98
1-Disc 2-Sides Mono

BLAZING SADDLES
Cat.No.1001LV $29.98
1-Disc 2-Sides Mono

CADDYSHACK
Cat.No.2005LV $29.98
1-Disc 2-Sides Mono

CHARIOTS OF FIRE
Cat.No.2005LV $34.98
2-Discs 3-Sides Stereo-CX

DIRTY HARRY
Cat.No.1019LV $29.98
1-Disc 2-Sides Mono
ENTER THE DRAGON
Cat.No.61006LV $29.98
1-Disc 2-Sides Mono

THE EXORCIST
Cat.No.1007LV $29.98
1-Disc 2-Sides Mono
The original LaserDisc pressing of "The Exorcist" in 1983 was produced by Pioneer Video in Japan. The film is mildly time compressed and naturally presented full frame. Pioneer catalogs for many years would list this disc as "SP" or surround sound processed. To our knowledge, this title is nothing more than a 2-channel mono audio presentation.

HONEYSUCKLE ROSE
Cat.No.1043LV $29.98
1-Disc 2-Sides Stereo-CX
PRIVATE BENJAMIN
Cat.No.11075LV $29.98
1-Disc 2-Sides Mono

SUPERMAN THE MOVIE
Cat.No.1013LV $34.98
2-Discs 3-Sides Stereo-CX

SUPERMAN II
Cat.No.11120LV $34.98
2-Discs 3-Sides Stereo-CX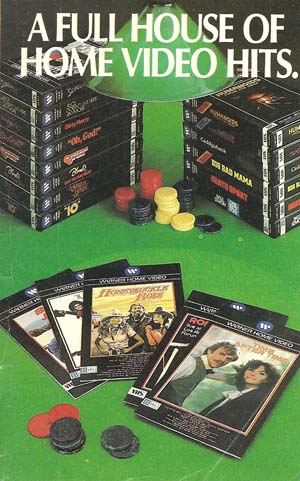 Warner Brothers was an early player in home video. As mentioned, Warner licensed titles to MCA for release on DiscoVision. Warner licenses to RCA for CED videodisc, and Warner had its own label for Beta and VHS videocassettes. Originally, the label was WCI and later Warner Home Video. The black packaging found on the accompanying 1981 videocassette product catalog shows the look of early Warner videocassettes. Warner Home Video's early videocassette library is a diverse collection. The label distributed American International Pictures and such AIP greats as "Frogs," "The Amityville Horror" and "Humanoids from the Deep were on cassette via Warner.

Warner also had a substantial amount of music programming on early videocassette. Remember this is before the days of either the short-lived linear stereo or VHS hi-fi and Beta hi-ff. Titles like "Devo: The Men Who Make The Music," "Blondie Eat to the Beat," and "Gary Numan The Touring Principle '7"9" are all in hissy early mono videocassette audio. Warner's early video library also included such non-feature programming as the cooking program "Flavors of China," a soccer video "Cosmos: The Championship Years 1977-1980."

Though American disc releases on both LV and CED never had the basic black design, some PAL format LV titles released in Europe did feature this packaging.
Warner was the leader in the short-lived "rental only" attempt in the early 1980s. Seeing the revenue loss on selling product to video stores that rented movies, some studios attempted to close the barn door after the cow was out and stop videocassette sales. Warner was the extremest in the group, starting a policy of rental only on all titles in 1982. Warner's stated philosophy was the rental program would benefit stores, as they would be able to take larger quantities of titles as they were not buying them but only sharing revenue on them with the studio and could return excess stock following the drop off in demand as a title aged.

Other studios selectively approached rental with new or important releases only. Walt Disney Home Video, 20th Century-Fox Video, and MGM/UA Home Video all dabbled in rental for a short time. No studio publicly announced rental only programs for LV. We do have in our files a letter from a rep at 20th Century-Fox Video stating the then-coming 007 movies and "Star Wars" in late 1982 would possibly be rental LVs, but this never occurs. Others, like MCA, simply raised retail pricing on cassettes to get the money up front. Universal sets a record with a $101 retail on the MCA Videocassette of "Halloween II," when it first appeared on Beta and VHS.

Neither rental, nor ultra-high retails survived in the home video market long. In fact, by the mid-1980s, Paramount Home Video and others were experimenting with sell-through pricing in the $25 or less range.