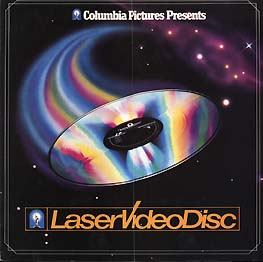 This large, 11-inch by 11-inch, full color publication included the debut titles released on LD on Columbia's original Columbia Pictures Home Entertainment label. Ten movies are present in this catalog, some with street date availability listings. The movies in this first collection of Columbia LDs includes: "Stir Crazy," "Kramer vs. Kramer," "Tess," "Midnight Express," "Close Encounters of the Third Kind," "California Suite," "The Blue Lagoon," "Chapter Two," "Seems Like Old Times," and "The China Syndrome."

Columbia had at least two false starts before this 1981 arrival on LD. MCA had licensed, though never included in catalogs, Columbia titles. Known to exist as a test pressing is a Columbia Richard Pryor concert film that was destined, but never arrived on MCA DiscoVision. The next known attempt by Columbia to make its way to LD was via an agreement with Sony to press discs. A group of titles was announced to be coming from Columbia to be pressed by Sony in Japan. These titles included many of the same movies that are included when Columbia arrives via Pioneer-made discs in 1981. No Sony pressed Columbia LD titles were released in the early 1980s.

The early Columbia LDs from 1981 are largely Kofu, Japan pressed discs made by Pioneer Video. There are American pressings for select titles, "The Blue Lagoon" being one with a U.S. 1981 pressing. Retail prices in 1981 for these LD releases were $29.95 (single disc) and $34.95 (double disc).

You may click on the images below to open a larger view in a new browser window.