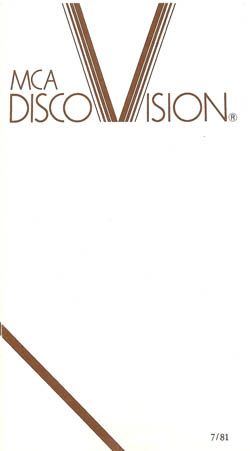 Though Paramount had just landed on LD with its own label in June of 1981, this paltry MCA DiscoVision product catalog from July, 1981 doesn't show much promise for the format.

From the greatness of the late 1978 Silver Book that introduced the MCA/Philips optical videodisc format to this sad and small catalog by mid 1981, this is not what was expected of the format originally. Plagued by production issues, MCA's DiscoVision library shrunk rather than grew in its early years. What you find here is the remains of the CAV-Standard Play movie releases and the trickle of new titles added from late 1980 through the early summer of 1981. Consider how many blu-ray and DVD releases arrive each week; then consider that LD was lucky during this period to see a single new movie each month.

Format is not noted, but only "Jesus Christ Superstar" and "Sgt. Pepper's Lonely Hearts Club Band" are certain CAV-Standard Play offerings. Beginning with 1981 and the January arrival of "Cheech and Chong's Next Movie," all new MCA movies were released in CLV-Extended Play on DiscoVision. The final two CAV-Standard Play features are "The Blue Brothers" and "Smokey and the Bandit II," issued in late 1980. An effort was made during 1981 to re-release a number of bigger Universal titles in new CLV format offerings. The $29.95 price generally reflects that a title has or is returning as an Extended Play release. This July 1981 catalog calls for four discs to arrive in September: "The Electric Horseman," "Psycho," "Shogun Assassin," and "The Wiz." Both "Electric Horseman" and "Psycho" were re-releases to CLV format.

The once large non-feature category of MCA DiscoVision had dwindled to six music titles, two Disney-licensed cartoon programs, and four additional titles. The first OPA (Optical Programming Associates) titles designed to use LD's interactive features are here: "How to Watch Pro Football" and "First National Kidisc."

The titles noted as Future Releases did almost all make it to LD. Only "Cry Uncle" was not issued by MCA. Among the Future Releases is "The Four Seasons," which was the last title issued on MCA's DiscoVision label in late 1981. The first non-DiscoVision offerings to arrive from MCA were "Olivia-Physical" and the CLV re-issue of "Slap Shot" in early 1982.