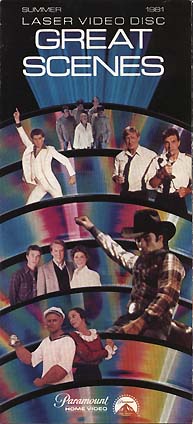 June 1981 is the debut of the Paramount Home Video label on LD. The catalog proclaims, "Paramount Premieres on Laserdisc," but this is only partially accurate. Paramount product had been offered on LD from its 1978 beginnings with a license agreement that brought a handful of Paramount films to disc on MCA DiscoVision. MCA DiscoVision licensed Paramount films included: "Saturday Night Fever," "Three Days of the Condor," "Looking for Mr. Goodbar," "Love Story," and "Heaven Can Wait." Other never released on DiscoVision titles were included in MCA DiscoVision's 1978 Silver Book launch catalog, including "The Godfather," "The Ten Commandments," and the 1976 remake of "King Kong," among others.

This initial collection of Paramount Home Video LDs all saw release during 1981 with pressings done in the U.S. Repressings would add Japanese made examples for many of these titles. If memory serves, "The Godfather" release is the last to arrive of this launch group. In fact, "Friday the 13th" sneaks out ahead of "The Godfather" in late 1981.

There are differences among the early U.S. releases and later Japanese pressings. For example, the original U.S. made copies of "Grease" from June 1981 include a light blue background LD intro that differs from later pressings. "Grease" in this first issue also sports a difference transfer from later pressings. You'll find this early light blue LD intro included also on "Charlotte's Web" and "Up in Smoke" original American pressings.

"Saturday Night Fever" appears on Paramount's label originally as a 3-sided CLV pressing. It returns from Pioneer's Kofu, Japan plant first as 3-sided, then as a single disc CLV within a year of its 1981 Paramount Home Video pressing. Originally, retail pricing for Paramount Home Video was $29.95 for single disc releases and $35.95 for double discs.

You may click on images to open larger views in a new browser window.