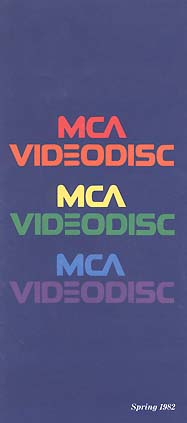 MCA's initial catalog under its MCA VideoDisc label following the late 1981 demise of the original MCA DiscoVision label. This blue Spring 1982 MCA VideoDisc publication is followed by a maroon Summer 1983 catalog of similar format.

Titles presented in this catalog were largely MCA DiscoVision labeled releases. Reviewing the movie listings for example, only the following were MCA VideoDisc label titles as of this Spring 1982 printing: "Galaxina" and the CLV re-issue of "Slap Shot." MCA, as it was a partner in Optical Programming Associates (OPA) with Philips-Magnavox and Pioneer, promotes OPA's product in a separate section.

Unlike some titles in past MCA DiscoVision catalogs, most everything listed in this Spring 1982 catalog, eventually including all listed Coming Attractions were or did see an LD release on either MCA VideoDisc or OPA labels. Exceptions would include "The Grateful Dead in Concert" (74-018), "The Island" (12-020), and "Which Way Is Up?" (16-009). Image Entertainment later released a pan-and-scan version of "The Island," but this happens around 1990. "Which Way Is Up?" never returns to LD, following an original CAV MCA DiscoVision pressing. Pioneer Artists releaes "Grateful Dead/Dead Ahead" (PA-82-010) in 1982, but it is not confirmed if there is any relation between this Pioneer Artists releases and the announced MCA title.

This is also the beginning of a period of releases on MCA's label of licensed non-Universal titles to LD. Most were exploitation "drive-in" films. It appears MCA was attempting in an R-rated fashion to provide adult material to LD with such movies as: "Yum-Yum Girls," "The Happy Hooker Goes Hollywood," "Galaxina," and "Private Lessons." For the film historian, it is sad that such Universal classics as "Spartacus" (1960), "Airport" (1970), and "All Quiet on the Western Front" (1930) had not seen release, but Crown International fare such as "The Yum-Yum Girls" (1976) were arriving on LD at a time of such limited product availability. Such was the state of home video in the early 1980s.