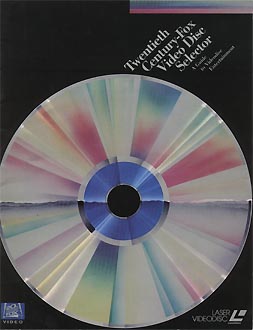 20th Century-Fox films arrive on LD in late summer 1981 on the Magnetic Video label. Forty titles, a combination of U.S. and Japanese pressings, make up the intial 1981 MVC group. Started by Andre Blay, Magnetic Video Corporation (MVC) is a pioneer in home video. The late 1970s issue of 50 Fox films on Beta and VHS format videocassette was a starting point for distribution of motion pictures on the once-popular tape formats. Magnetic Video comes to LD with a selection of 20th Century-Fox and other MVC licensed films. MVC had agreements with AVCO-Embassy, United Artists, ITC, ABC Films, and others for distribution of product on home video. There is no known MVC LD catalog.

The first LD catalog for this label is under successor 20th Century-Fox Video's name. Fox purchases MVC from Andre Blay in 1979. Blay would later start his own Blay Video label that morfs into Embassy's label. This 1982 Video Disc Selector is a full color, 8-1/2 by 11 inch, publication containing the launch titles for LD and many never released titles.

You may click on any of the images below to view a larger version that will open in a new browser window.
Two versions exist for this 1982 20th Century-Fox Video Disc Selector publication. The original included a blank black second page. The second or revised edition presented an Introduction. This added page provides some general information regarding the LD format. Mention is also made that not all titles presented are currently available, but are planned for issue by year's end (1982). As was often the situation in the early days of LD, a majority of the coming attractions presented in this catalog never made it or took many years to be released and then under different home video labels.
The other change found in the revised edition of the 1982 20th Century-Fox Video Disc Selector is on page nine. Added to the selections found in Comedy is "Mel Brooks' History of the World-Part 1" (#1114-80). This title was issued on LD on 20th Century-Fox Video's label.

Titles presented in this 1982 LD catalog that did not receive a release at the time include: "The Eagle Has Landed," "Dot and the Kangaroo," "The Jazz Singer," "La Cage Aux Folles," "King of Hearts," "Kotch," "Hopscotch," "The Last Valley," "F.I.S.T.," "Junior Bonner," "Watch Your Step - Programs I, II & II," "Man of La Mancha," "The Hound of the Bakservilles," "The Onion Field," "The Sailor Who Fell from Grace with the Sea," "Jenny," "The Lion in Winter," "The Legend of the Lone Ranger," "The Alamo," and "Apache."

All other titles presented were pressed and released between 1981 and 1983. These early titles are a combination of American and Japanese pressings. Of note, the only jacket covers shown are found on page four and show Magnetic Video artwork: "Alien," "The African Queen," and "The Black Stallion." LD always seemed in the early 1980s to be one label behind where videocassette and CED videodisc might be at any time. For example, when LD was seeing MVC jackets, tape had moved to 20th Century-Fox Video; when LD started getting 20th Century-Fox Video jackets, tape had moved to CBS/Fox Video. This catalog may claim to show 20th Century-Fox Video titles, but in fact of the 59 titles that were released from this catalog only 15 would possess 20th Century-Fox Video labels at the time of publication.
As stated, Magnetic Video (MVC) was among the first labels on videocassette. By 1980, MVC had a library of over 200 titles. Originally, MVC began with licensed 20th Century-Fox movies and was based in Farmington Hills, Michigan.

The numbering system utilized put Fox titles in MVC's 1000-series with other companies following: Viacom (2000), RBC Films (3000), AVCO Embassy (4000), United Artists (4500), Brut Productions (5000), Bill Burrud Productions (6000), Pathe News and later CBS Films (7000), and ITC (9000).

Videocassettes originally had a "CL" prefix. Two-digital suffix numbers were added to note various videodisc formats. For example, U.S. NTSC format LD stock numbers included "-80" following the title's four digit number. In later years, re-issues of titles from pan-and-scan to letterbox versions often received "-85" numberings. CAV-Standard Play issues received "-84" numberings. UK standard PAL format LDs carried "-70" numbering. CED videodisc stock numbers included a "-90" and the Japanese VHD videodisc stock numbers included a "-10."