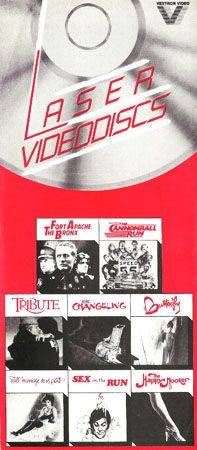 One of the pioneering companies in home video, Vestron Video was formed in 1981 by and HBO executive out of Time-Life assets. Vestron supported all popular U.S. video formats of the early 1980s, including Beta and VHS videocassettes and CED and LV videodisc.

What appears in late 1982 from Vestron on LD is a sampling of the company's library in eight titles that included: "Fort Apache, The Bronx," "Tribute," "Butterfly," "The Cannonball Run," "The Changeling," "Till Marriage Do Us Part," "Sex on the Run," and "The Happy Hooker."

You may click on the images below to open larger versions for better viewing.