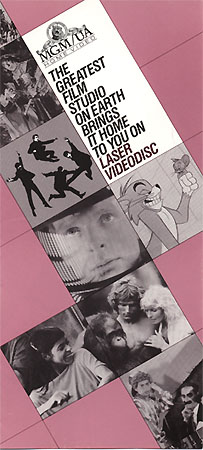 MGM/UA debuts on LD in 1983. MGM got its start in home video in a partnership with CBS that created MGM/CBS Home Video. This early MGM/CBS label was found on videocassette and CED videodisc, but LD never had this label.

A mix of 17 feature films, both old and then new, plus a trio of non-feature titles made up the launch for MGM/UA Home Video on LD. The movies were CLV-Extended Play format releases and naturally all were full-frame 4x3 pan-and-scan presentations. Though MGM/UA featured a statement on its jackets that the film contained on the disc was the original theatrical version, besides the cropping for NTSC video, the demon time compression was utilized on at least one movie. MGM's 50th anniversary release of "That's Entertainment" from 1974 had its first LD release as a full-frame presentation with enough time compression to reduce the theatrical running time of 134 minutes down to 119. This is the most severe of any early 1980s effort at speeding up a title to enable it to fit on one disc, rather than two.

Other debut movies for MGM/UA fared better with respect to time compression and included: "Coma," "The Champ," "2001: a Space Odyssey," "The Goodbye Girl," "Forbidden Planet," "Tarzan, The Ape Man" (1981), "Fame," "Network," "The Wizard of Oz," "Cat on a Hot Tin Roof," "A Day at the Races," "Dr. Zhivago," "Clash of the Titans," "True Confessions," "Brigadoon," and "An American in Paris."

The three non-movie releases included the made-for-video program, "The Compleat Beatles," "The First Barry Manilow Special," and "Tom and Jerry Cartoon Festival, Volume 1." MGM/UA's pricing structure was $34.95 for single disc movies and $39.95 for double discs. A bit of a curiousity was a $25.95 price tag for a select group of single disc movies. "Cat on a Hot Tin Roof," "Forbidden Planet," and "A Day at the Races" all received this $25.95 price. Though you might be inclined to label this as a retail for older films, consider other older titles in the launch group do not share this $25.95 price category. For both odd older titles and non-features, MGM/UA did not long support its $25.95 pricing. Of the non-feature introductory titles, both "Barry Manilow" and "Tom and Jerry" ran under an hour and were single-side CLV format releases that retailed for $25.95.

You may click on the images below to open larger views in a new browser window.